Zero Waste Manawatū Facebook Group
A group for people in the Manawatū who are on the journey towards Zero Waste or living without single-use plastics and other products destined for landfill.
A respectful, compassionate group with an emphasis on inspiration and knowledge-sharing community!
Para Kore
Para Kore are zero waste education programme designed specifically for marae, community organisations and schools. Para Kore regularly post videos on their Facebook page with zero waste ideas in the kitchen, bathroom, workplace and in schools.
https://www.facebook.com/parakore
Zero Waste Network Aotearoa
Zero Waste Network represents community enterprises across Aotearoa New Zealand who are working towards zero waste. Their mission is to connect, educate, enable and inspire people to reach their goals and to be a unifying voice at local, regional and central government levels.
https://www.facebook.com/zerowastenetworkaotearoa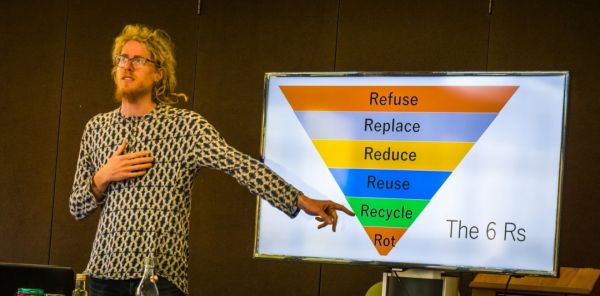 Liam from The Rubbish Trip with the 6 Rs of Reducing Waste
The Rubbish Trip Zero Waste Shopping Guides
Zero Waste heroes The Rubbish Trip have compiled an excellent Zero Waste shopping guide for the Manawatū/Horowhenua/Rangitikei regions.
They also have guides for all other regions of New Zealand.